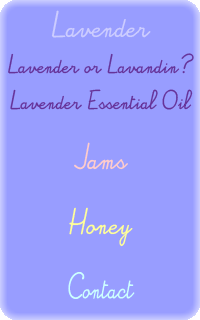 The Lavender is a strong antiseptic of the airways (asthma, bronchitis) and intestinal ways. It is also an excellent healing (wound, burn, mycosis) and astringent (excessive sweat). Soothing, it can be used against the sleep disorders.

The Lavender Essential Oil offers the biggest number of therapeutic applications among all the essential oils.

The factories now use lavandin and spike instead of Lavender in soaps, household products and cheap fragrances, while the Lavender is kept for therapeutic use.
All the following indications are there for information purpose only. If you need a medical information, you need to consult an aromatherapy specialist, a doctor or a pharmacist.

Anti-infective, anti-inflammatory, antimycosic, antispasmodic, anti-epileptic

Circulatory: reduces the blood pressure
Digestive: colic, flatulence, gastro-enteritis, indigestion, nausea, diarrhea, stomach aches
Head: bad breath, headaches, infection of the nose and the throat, sinusitis, earaches
It is particularly indicated in case of ear infection. It is the only essential oil, with the spike, that can be used in the ear duct, diluted in fatty oil (blend 2 drops of essential oil with 2 drops of hazelnut or castor oil).
Period: pain, irregularity
Muscles: pain, rheumatism, sprain, lack of tonus
Nervous: anxiety, breakdown, general weakness, irritability, palpitations, insomnia, stress, nervous shock
Respiratory: asthma, bronchitis, cough, whooping cough, tuberculosis
Skin: acne, insect bite, cellulite, boil, dermatosis, eczema, inflammation, psoriasis, sunburn, dry skin, herpes, oily skin, mycosis



2 drops on the pillow to fall asleep
In the bath, it procures relaxation and appeasement (blend beforehand some drops in a soupspoon of dispersant, foam bath, milk or honey)
Extremely appreciated for the massages (to be mixed with massage oil, olive oil or another oil)
As a rub down oil, it soothes mosquito bites, itches, muscle pains, knocks, rheumatisms
Excellent healing (small wounds, spots, burns)
In the diffusers or oil burners, it removes the smell of cold tobacco or cooking
It scares away parasites: mosquitos, mothes, fleas, ants, ticks (for the dog ticks, apply some drops and give a rub on the neck, ears and paws ; cats don't like the essential oil)
Prevents our 4 legged friends from urinating anywhere.
Very effective lice treatment, as well preventive as curative
Some drops in the water for the floor cleaning, on the vacuum cleaner filter, or in the bathroom.
Our essential oil of fine lavender received the AOC (controlled term of origin) label in 2006.